For week 10 of Female Founders Weekly, we interviewed Kaitlin Mogentale. Kaitlin is the founder of Pulp Pantry, a sustainable food company that transforms upcycled ingredients (namely, juice pulp!) into vegetable-based, fiber-rich upgrades of junk food favorites like chips and cereals. She's a self-proclaimed food waste warrior and deeply passionate about the impact that food has on personal health and wellbeing, as well as sustainability and community. She graduated from the University of Southern California with a degree in Environmental Studies, starting her company shortly after graduating.
THE INSPIRATION: How did you get the idea for Pulp Pantry?
I was a senior in college at USC, working part-time as a teaching assistant at an urban garden attached to an elementary school in South Los Angeles. Our school was located in a food desert - or a neighborhood where healthy, fresh, affordable food is not widely accessible - and I noticed that many kids were reliant on the school to provide food either through the free breakfast program or lunch, or both. At lunch, pizza sauce and fries were considered vegetable servings. Many kids came into the garden and saw fresh vegetables for the first time - carrots, tomatoes, and more. These experiences made me feel a sense of great privilege - having grown up in a community where fresh food was abundant - and great responsibility to help make healthier food accessible for all.
At a friend's house, I watched as she juiced a bunch of carrots and was shocked to see the handfuls of byproduct pulp produced for such a small amount of juice. The next day I called juiceries up, finding that all of them tossed their byproduct as well. Immediately, I knew I wanted to do something to prevent healthy food resources from going to waste, putting them to better use: providing nutritious alternatives that would make eating healthier more accessible.
THE PITCH: What is Pulp Pantry?
Pulp Pantry crafts wholesome snacks made from sustainable, upcycled ingredients.
Pulp is our namesake and signature ingredient: the fiber leftover after juicing organic, farm-grown vegetables. Our newly launched grain-free Pulp Chips are made from organic upcycled kale and celery fiber, organic upcycled okara flour, cassava, and superfoods like chia seeds. I'm passionate about squeezing more servings of vegetables and fiber into each day. A bag of Pulp Chips contains a full day's serving of good-for-your-gut fiber, with 5g per serving. I've always hoped to help even the pickiest of eaters fall in love with veggies in new and delicious ways.
In partnership with rePurpose Global, we're proud to be one of the first brands with Plastic Neutral Certification, one step in a long-term commitment to make delicious products that better the health of people and the planet.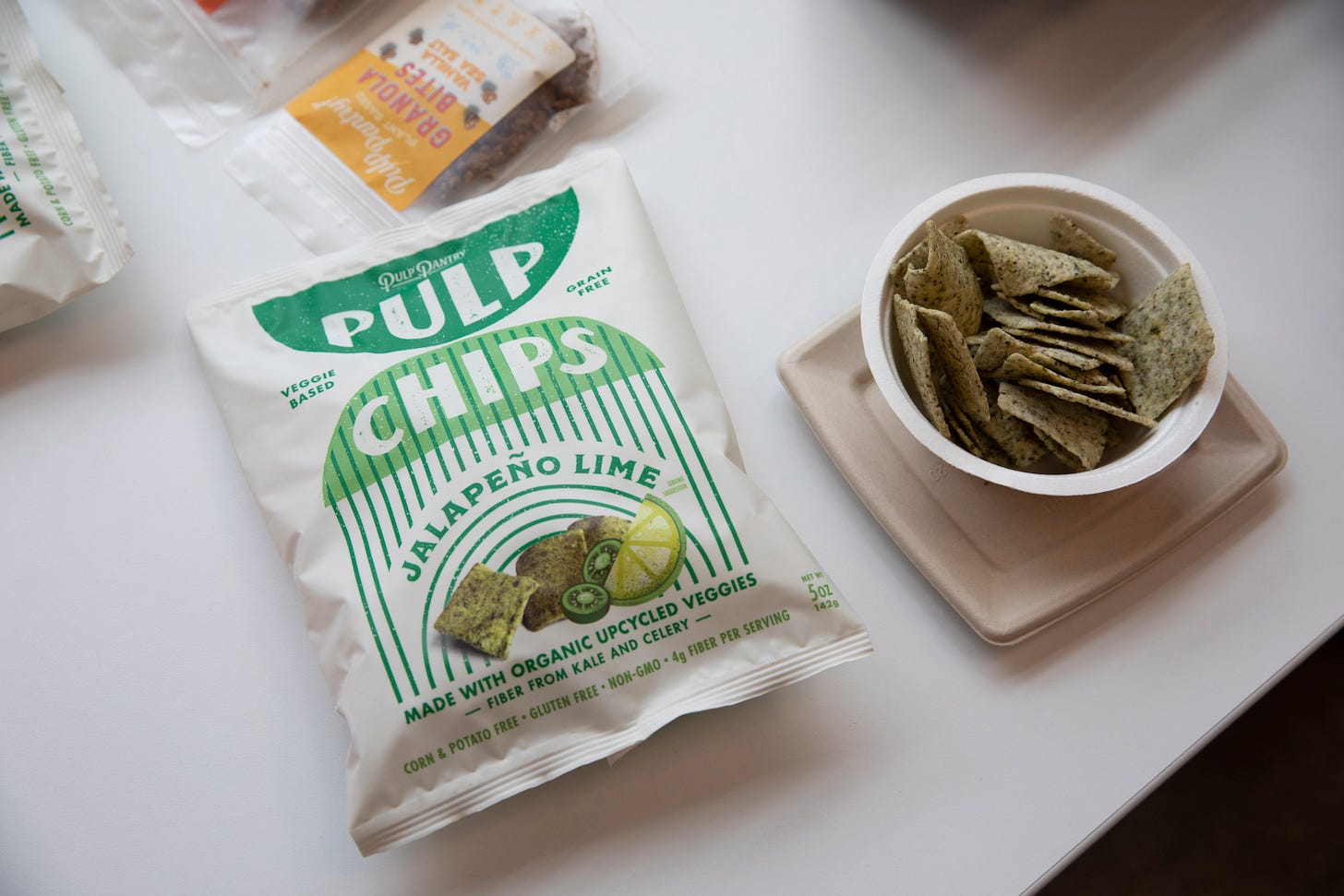 WORK EXPERIENCE: Did you rely on any previous business experience to help you start Pulp Pantry?
No! I was a fresh-out-of-college grad when I started my business. I have made so many mistakes, literally fallen flat on my face with failed products and rejection. That said, I feel grateful for the naivety that helped me learn some hard lessons, quickly, although I realize my pathway to where I am today has been long, winding, and perhaps not every failure would have been necessary had I come into business with a bit more experience under my belt. Still, I wouldn't have it any other way. For anyone that's thinking about starting a business, I can't think of a better way to spend your time growing as a person - whether the business succeeds or fails.
FUNDING: Did you raise capital or did you bootstrap Pulp Pantry?
To launch my latest product line, I did need to take out a loan from my family. I'm freakin lucky to have been able to go to my family for financial support. Things got expensive quickly as soon as I went through the packaging development, printing, and then the ultimate manufacturing of our first truly commercialized product. However, in the years previous, I leaned on support from corporate incubators, like the incredible Target Incubator, Burt's Bees Natural Launchpad, USC Incubator, as well as applying to any grant that seemed fit.
Burt's Bees and Target's incubators empowered entrepreneurs to meet with Subject Matter Experts on topics that were of particular interest to each individual business. They went beyond the one-size-fits-all programming to allow entrepreneurs to build individual relationships with mentors who would continue to provide support along the business' development. One of my mentors from Target actually became my buyer, and he's giving me the chance to launch my product in Target stores. Another is a dear friend to this day, and she came along with me to my first production run to ensure that things ran smoothly. Burt's Bees continues to facilitate webinars with subject matter experts who speak on topics of interest. It's totally possible to find initial funding and build relationships for your business without raising capital - there are a ton of resources out there, especially for female founders.
CHALLENGES & MOTIVATION: What have been your biggest hurdles with Pulp Pantry and what motivates you to keep going?
It seems like each year brings a new set of challenges. What keeps me going is the community of entrepreneurs around me - especially my female founder peers. I can't tell you the number of times I've called upon my community to help through the day-to-day challenges trying to get this business off the ground. They've inspired me to leap forward with courage by providing the framework, tools, even the right partners for success.
SUPPORT NETWORK: Who do you lean on the most for support?
I lean on the friends and fellow founders I've met throughout this journey the most. With them, I've found a safe space to talk about the challenges and the un-glamorous sides of operating a business. They've brought me back to life in even the most difficult of times just by reveling in the ups and downs of the journey.
WORK-LIFE BALANCE: How do you manage work-life balance and what do you do when you're not working?
Work-life balance wasn't really a thing for me until this year, truthfully! I never really saw a separation of business and pleasure, and still don't, but I do realize the importance of investing in my health and wellbeing, as well as my friendships, relationship, and family. I didn't date for a long while there -- I was so zeroed in on building my business, and I didn't want to invest the time. Looking back, I wasn't insecure about it, and I still feel that no one should ever feel bad about committing themselves wholeheartedly into their business. I've found myself on a bit more stable ground now, and have been able to devote more time and energy to myself outside of business, as well as my relationships, which has been an amazing learning process all over again.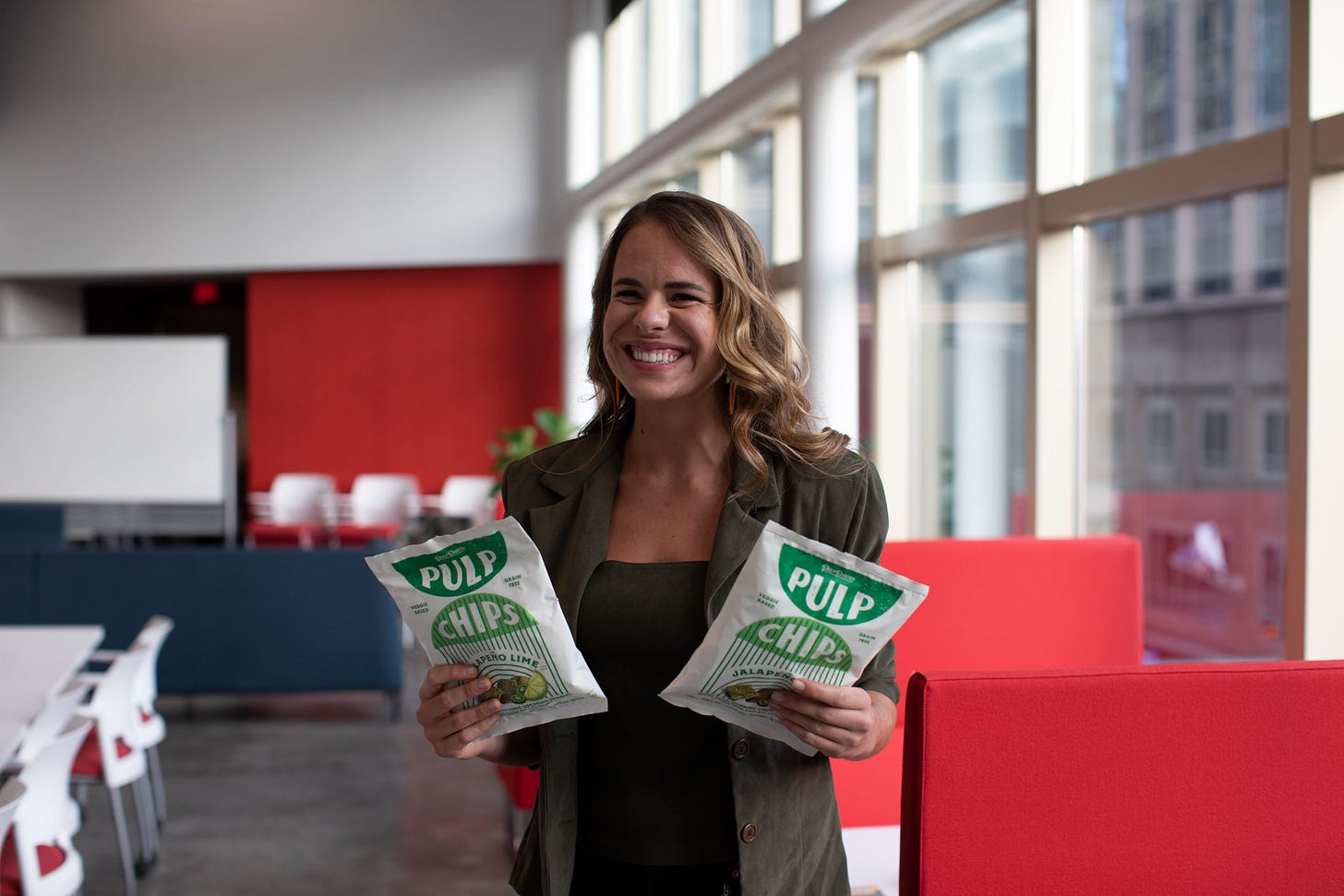 CELEBRATING THE WINS: What has been your proudest achievement so far?
I still feel like the best is yet to come. But I hope that awestruck feeling I get looking at (or better yet, watching people enjoy!) this physical product that I've created never gets old. The fact that it even exists is something powerful, and for that I'm incredibly proud.
ADVICE FOR FUTURE FOUNDERS: What's your best piece of advice to other women starting a business?
Don't let fear get in the way! Be smart, plan, strategize, but most importantly, just go for it. Do it. And once you decide to take that courageous leap, don't look back.
---
Do you need a weekly dose of inspiring female stories? Subscribe below to get all the updates from Female Founders Weekly!
Are you a founder and want to share your story with our audience? Apply below: