For week 17 of Female Founders Weekly, we interviewed Aimiende Negbenebor Sela of Sela Films. Aimiende is a Writer-Director of Nigerian descent, adopted by a Jewish-Israeli family from the Bronx. Her award-winning short films have screened at numerous festivals across the world, and her feature screenplays have placed in several competitions. Growing up as that kid glued to The Sound of Music, back in Nigeria, to the adult now dazzled by the complexity of the characters in 12 Angry Men, films have always helped Aimiende make sense of the world. As a result, her work interrogates the human condition, but with empathy; as she truly believes we all live the same lives, we're just colored differently. Her production company, Sela Films LLC, was born out of this belief in order to help push the boundaries of innovation, inclusion, diversity and creativity with a focus on humanism. Aimiende currently resides in Los Angeles, California, with her husband and their fourteen year old Shih Tzu, Orlando.
THE INSPIRATION: How did you get the idea for Sela Films?
Sela Films was initially created to tell a specific short story I wanted to tell, and frankly it grew from that. From the need to see more stories that are reflective of the stories, the lived experiences that I'm familiar with, the need to see people like me and those I love and care about on screen... I wanted to say "see, we're not so different after all." And, I'm grateful to get the opportunity to do that -- share stories that deal with our humanity, cause I firmly believe we all live the same lives, we're just colored differently. It's my mantra and it guides the work we engage in at Sela Films.
THE PITCH: What is Sela Films?
Sela Films is an independent production company. We produce content ranging from music videos to films, and media that's shown via broadcast TV or on online streaming platforms.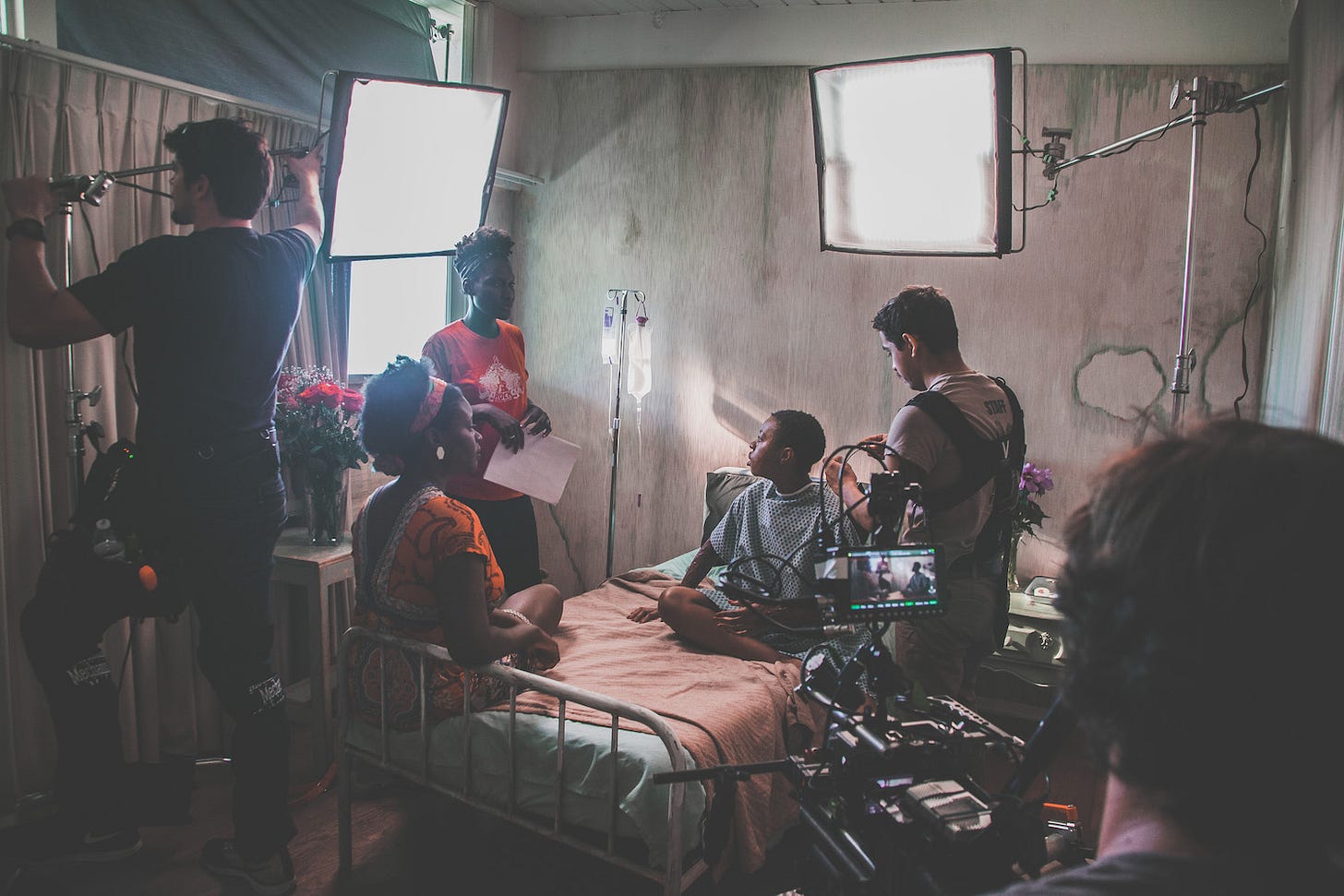 FROM IDEA TO REALITY: Practically, how did you get started?
Well, I started by writing a short film that was based on a true story, mine. I partnered with a theater director friend of mine who was interested in branching out into filmmaking and together, we brainstormed on how to bring this story to life. My background is Computer Engineering and Literature. I'm a graduate of Stevens Institute of Technology, and I worked in I.T. for a number of years before pivoting into the arts. So, I had no formal training in filmmaking. Neither did my friend, Michel Chahade, but we figured it out. I buried myself in tons of books, we researched how to form an LLC, and did it. Then we reached out to friends and family to help raise some of our budget for the film... It was a tough process, because I was literally learning as I went. That first short film was my film school. We got to play at several festivals and won some awards as well, which was very encouraging. And, we've been in business since.
WORK EXPERIENCE: Did you rely on any previous business experience to help you get going?
In all honesty, I'd never built a business before Sela Films, so there was no previous business experience to speak of really. What I did have was my experience in corporate America, coupled with the business classes from college and a dad and friend, Chahade, who both have experience running their own businesses. I was able to draw from those resources and as I said earlier, buried myself in books and websites that were resourceful.
FUNDING: Did you raise capital or did you bootstrap?
I have essentially been bootstrapping my business. My process so far has been to raise money project by project. For a couple of those projects, I had some investment monies make up a large portion of the project's budget. But, for the company as a whole, I've been bootstrapping.
CHALLENGES & MOTIVATION: What have been your biggest hurdles and what motivates you to keep going?
Oh, where do I begin? :) It's been a huge challenge (still is) raising funds to run the business' day to day, as well as funds to make up the budget for each film we've produced. In addition to that, access. As a company helmed by a black woman, it's been challenging finding ways to get recognition, ways to break through the "noise" so to speak and be seen as capable, as worthy of investment and support.
What keeps me going is the fact that I am determined to build and leave behind something bigger than me, sustainable, inclusive and representative. And, I know that if I succeed in doing that, I would have made a difference in my lifetime.
SUPPORT NETWORK: Who do you lean on the most for support?
My husband is a huge fan of mine and he provides me a lot of emotional/moral support. My dad as well. And, I have a handful of friends that are very supportive too.
WORK-LIFE BALANCE: How do you manage work-life balance and what do you do when you're not working?
What's that? :))
All jokes aside, I'm not sure I have a sustainable work-life balance. It's something I continue to work on and hope to one day master. My husband happens to be someone that takes pleasure in simple things like watching Boston Legal reruns at the end of a work day and he pulls me into it. He helps keep me sane, because he is my best friend, we do a lot together and it breaks me out of just focusing on work 24/7.
I also love reading, travelling when I am able, attending art and cultural events, and writing (which is technically work, since I'm a writer as well by trade.)
CELEBRATING THE WINS: What has been your proudest achievement so far?
My latest short film, Hermit. I feel like I am coming into my own, my voice, as a Filmmaker and I see it in this film.
ADVICE FOR FUTURE FOUNDERS: What's your best piece of advice to other women starting a business?
First, have a plan. But, be flexible. Understand that running a business is like being in a relationship: there'll be good days, bad days, things you like about your business, things you abhor, and so on and so forth. None of it is essentially good or bad, but simply part of captaining your own ship.
Second, breath. Always, breath.
Third, ask for help. Seek peers, seek mentors (especially if they're available to you.)
Fourth, when it's all murky and you can't see right from left, be still. There's a compass in stillness. Remember why you're doing this. Surround yourself with folks who are encouraging and uplifting. Take breaks from work (even if you have to force yourself, there's more to life.)
Lastly, finds ways to pay it forward.
---
Do you need a weekly dose of inspiring stories?
Are you a founder and want to share your story with our audience? Apply below: