Discover more from Female Founders Weekly
Bite-sized interviews covering the stories of female founders who are role models in business and beyond.
Week 4 | Dieneria Brown of Young Authors' Workshop
Dieneria Brown on how she started Young Authors' Workshop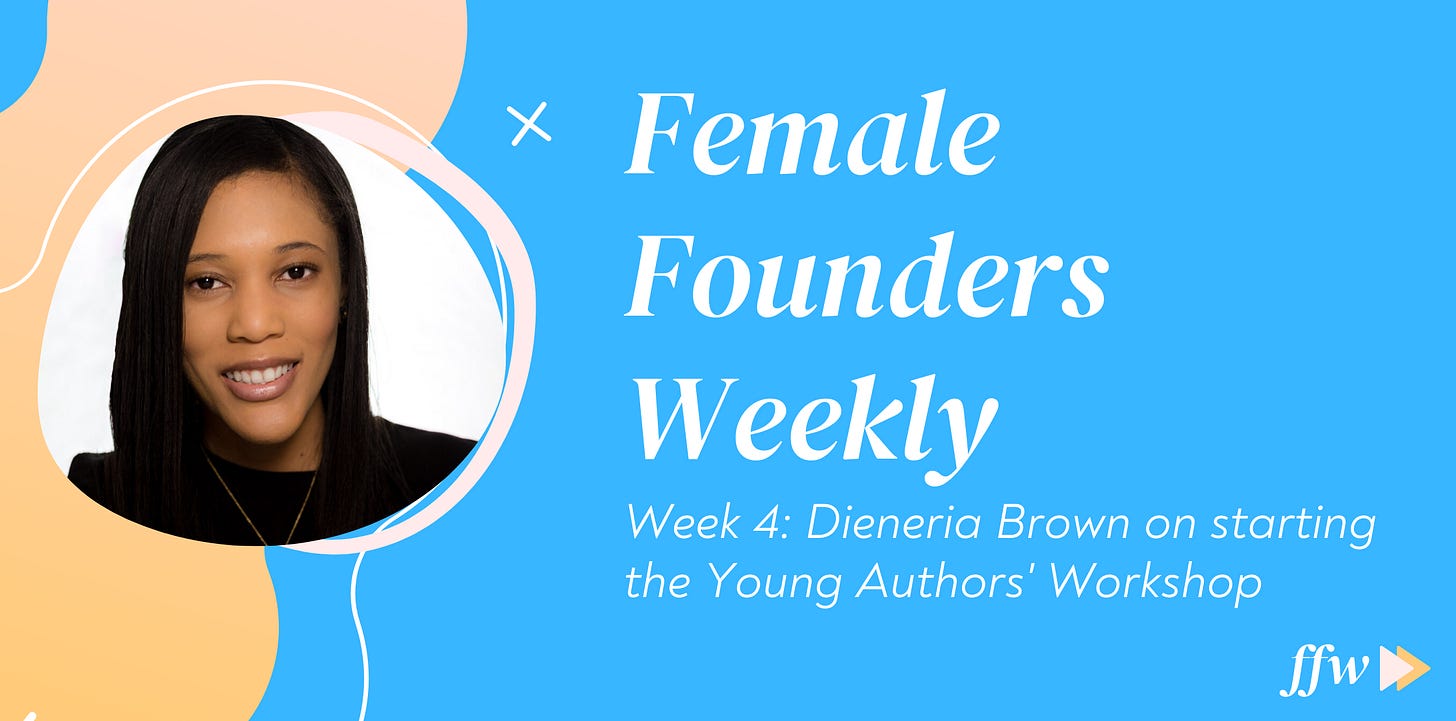 Hi, we're Sarah and Alex, co-authors of Female Founders Weekly, and this week we interviewed Dieneria Brown on her experience starting and running Young Author's Workshop. Dieneria is a published author and experienced teacher. She has a B.A. in English and a M.F.A. in Creative Writing. She combined her passion for creative writing and education when she founded Young Authors' Workshop - a creative writing auxiliary program and publishing house for children. 
1) What inspired you to start the Young Authors Workshop?
My fourth-grade teacher was the first person to take notice of my writing and she told me I could be an author. She believed in my ability and fostered my imagination. I want every student to have that support to express themselves and share their thoughts with the world. Having worked in the classroom and in education administration I am well aware that most schools do not include creative writing in their standard curriculum, so I started Young Authors' Workshop to give students the opportunity to explore creative writing in afterschool and summer camp environments.
2) Tell us a little bit more about Young Authors Workshop.
Young Authors' Workshop gives students a place to express themselves, explore their imaginations, and improve their reading, writing, grammar, and public speaking skills. 
In our programs, Young Authors will get a taste of the entire writing process from start to finish. We will begin by reading and discussing example fiction, non-fiction, and poetry. From there Young Authors will generate their own ideas using prompts and writing exercises. Next is the planning stage, where Young Authors will learn about basic story structure, personal essay structures, and the different types of poetry. During the writing stage, each session will have a theme (figurative language, setting, rhyme scheme, etc.) that will be the focus for that day. Once the first drafts are complete, the Young Authors will begin the editing and workshopping process. They will read each other's drafts, help edit one another's work, and offer creative suggestions. During the last session, our Young Authors will host a reading for parents and family friends. In the weeks following the program, a paperback book with all of our Young Authors' fiction, non-fiction, and poetry pieces will be given to each Young Author.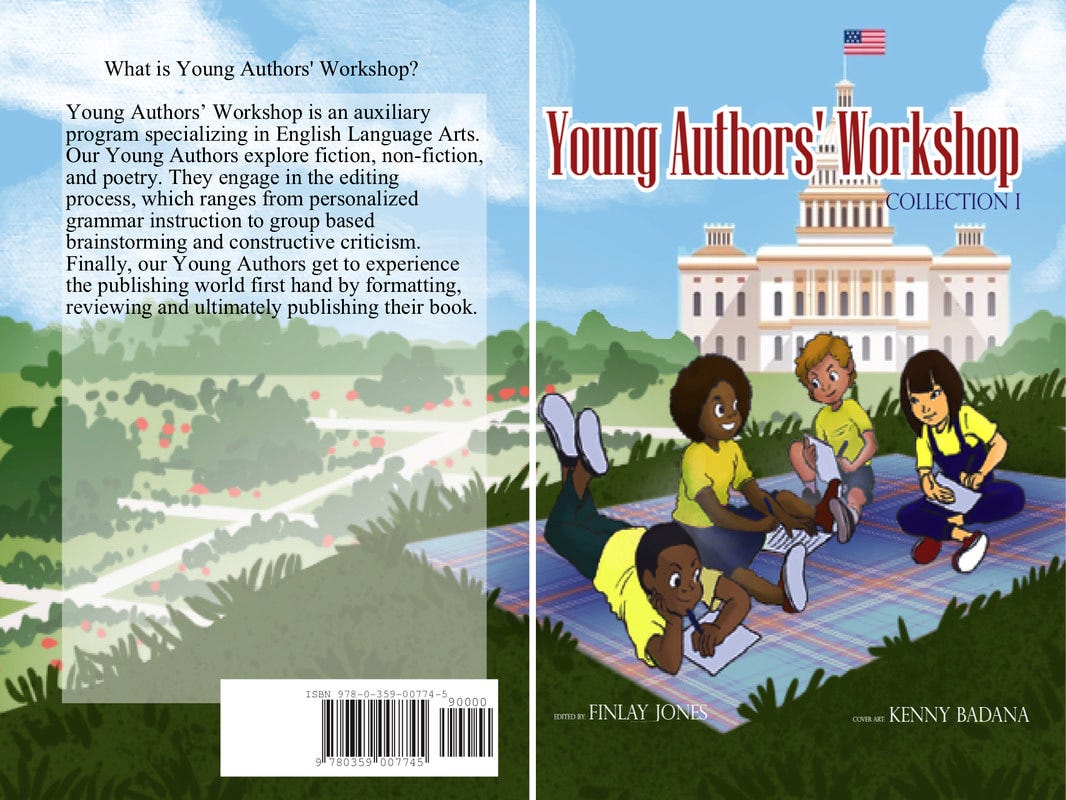 3) Wow, it sounds awesome. So, how did you get going? Did you have a partner or are you a solopreneur?
I had the idea for Young Authors' Workshop at the end of my senior year of high school, but I had no idea how to start a business and did not think it was the right time to embark on that journey. After graduating from American University with my M.F.A. in Creative Writing I was ready to start this business. I spent the next two years perfecting my business plan and saving. I am a solopreneur and do not see myself having a partner anytime soon. I am extremely hands-on in my business and have a clear vision for the growth of Young Authors' Workshop. I think I would have difficulty compromising with a partner on that vision.
4) Did you rely on any previous business expertise to help you get started?
My business planning started out being self-taught. After a few months I found the Small Business Administration and they gave me some great resources on creating a business plan. The financial modelling I use is 100% self-taught. I do not use an accountant, bookkeeper, or tax consultant. Currently I am able to manage the financial aspects of the business myself, but I will eventually bring on a finance team. I rely on my classroom experience to develop the curriculum and my education administration experience to partner with schools. 
5) Did you get investment or have you been bootstrapping your business?
I chose not to have any investors. I wanted full ownership and control over Young Authors' Workshop, so I financed it myself. Since our workshops are held at host sites (schools, summer camps, etc.) I did not have to rent or buy a business space. Not needing a physical space saved me a lot of money and made self-financing a realistic option. I wouldn't say I had to compromise on anything. I did start out very locally focused, but that was always my intention. My goal has always been gradual growth because it is important to me to maintain a quality experience for each individual student. I think sudden or rapid growth would make quality control difficult especially with a small business that by nature has a small workforce. 
6) What have been your biggest challenges? What motivates you to keep going?
Our biggest challenge to date is COVID-19. Prior to COVID-19 all of our workshops were in person at schools and summer camps. When schools moved to distance learning we had to move our workshops online. This was an unexpected change that needed to happen immediately. We were able to successfully move our workshops online, but it was definitely a challenging time.
7) It's definitely a challenging time for a lot of small businesses. Who do you lean on the most for support?
There are so many resources out there for people who want to start their own business. I think it is important to network and find support groups. I am a member of a few groups and mentorship programs for women entrepreneurs and I turn to them when I need support. 
8) How do you manage work-life balance? How do you spend your time when you're not working?
Organization and multi-tasking are the key to work-life balance. I use a planner to schedule my days and keep track of my tasks. It also helps that I am passionate about and truly enjoy my work. 
9) What has been your proudest achievement so far?
My proudest achievement has been pivoting to a fully virtual business. It seemed like an impossible task, but we were able to not only maintain our current students but also gain new students. Our virtual summer camp currently has the highest enrollment for this year, which is astounding.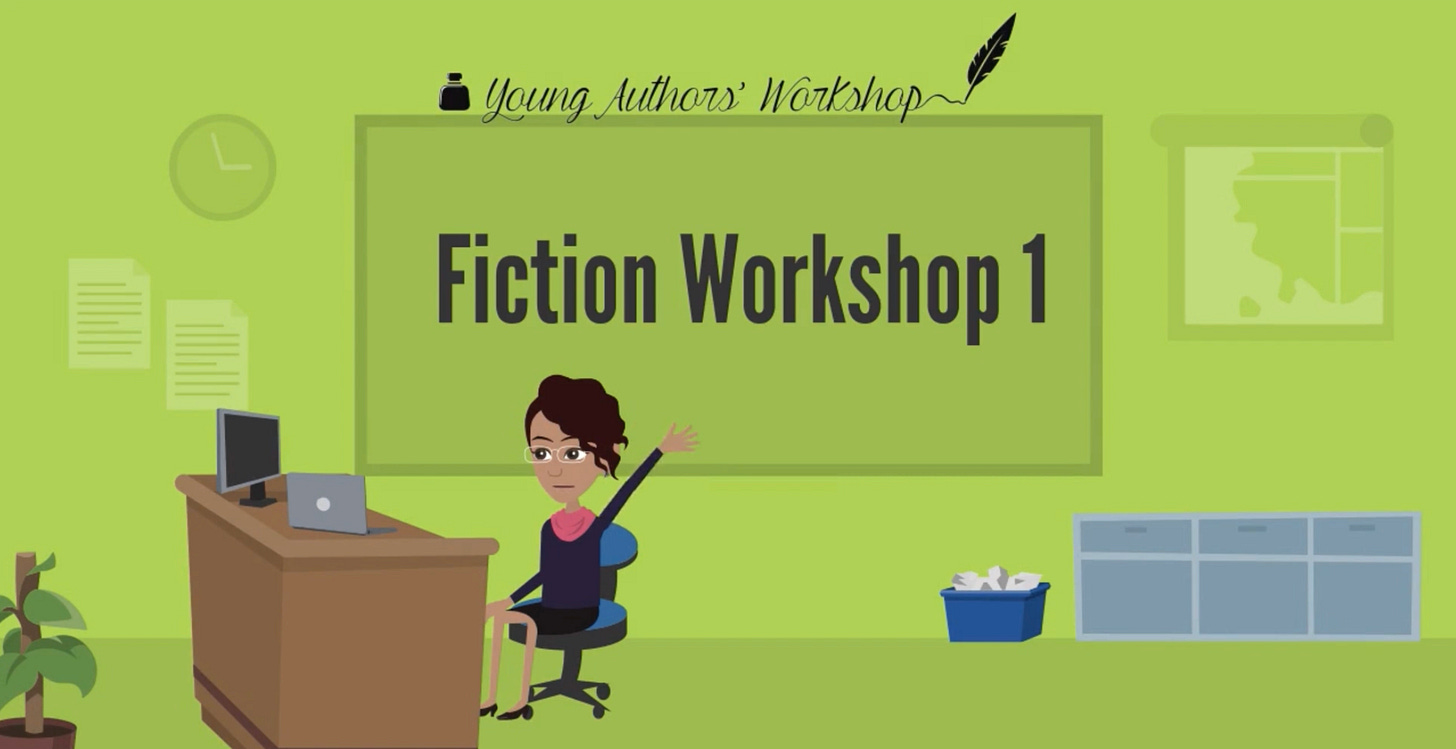 10) Congratulations! What's your best piece of advice to other women starting a business?
Stay true to yourself and your vision. There will be many people who give you unsolicited advice, but this is your business and you need to do what feels right for you. Authenticity it was will make you stand out from the crowd.
---
Sign up for Dieneria's Virtual Fall Young Authors' Workshop here.
---
Do you need a weekly dose of inspiring female stories? Subscribe below to get all the updates from Female Founders Weekly!