Week 5 | Natalie Riso of 500 Startups Shares Resources for Female Founders
Natalie Riso on content marketing and spearheading 500 Female Forces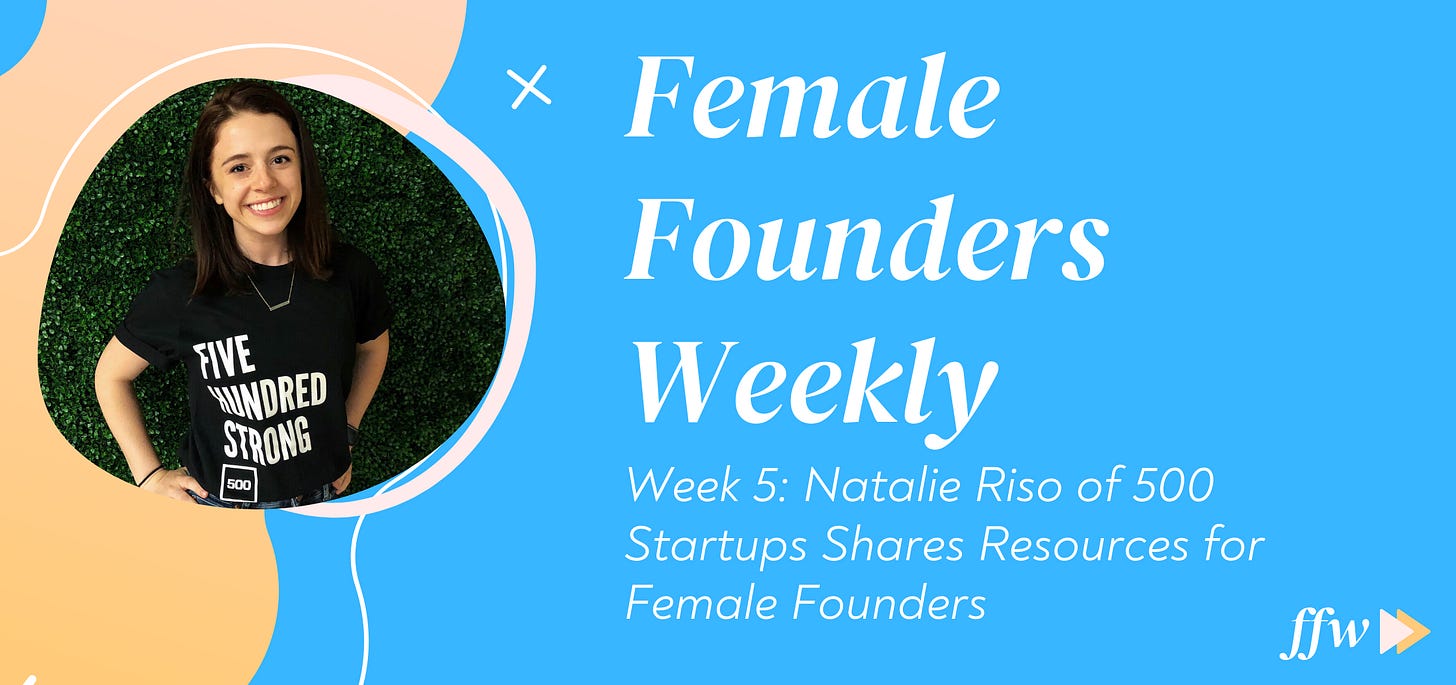 For Week 5 of Female Founders Weekly, we interviewed Natalie Riso, the lead marketing manager at 500 Startups, the most active early stage investor in the world. Natalie helped to create 500 Startups' new campaign, 500 Female Forces, which is focused on reigniting 500 Startup's commitment to female founders. Natalie started her career in marketing by creating Linkedin content, and in 2015, she was the youngest recipient of Linkedin's Top Voice award. Natalie went on to cultivate an audience over 400K around entrepreneurship, social impact, leadership, and more. In 2018, Natalie graduated as the most followed student in the world.
1) What brought you into the world of startups? Why did you choose this career path?
When I transferred half-way through my undergraduate degree to go to USC, I joined one of their accelerator programs as their marketing lead to make friends and (admittedly quite cringingly) to join the "hustle" culture of student entrepreneurship. That all to say, I didn't really get into the world of startups until post-college when I helped start Impact Mentality, a conference at the intersection of mental health and corporate culture. The experience of working with founders and becoming intimately familiar with their anxieties, drive, and fervor for what they want to accomplish inspired me to join the world of venture capital. 

2) Tell us a little bit about 500 Female Forces, what do they do?
500 Female Forces is a recommitment by 500 Startups, along with a series of community partners and founders, to support female founders regardless of the circumstances. We knew that during COVID-19, female founders were at risk of losing some of the incredible progress they had made in fundraising and founder support, and 500 Startups wanted to enable the community to come together to make sure that female founder representation continued to move in the right direction. The initiative includes ongoing events, an updated and ever-expanding list of female founder resources, and a formal call for female mentors in the entrepreneurial ecosystem. 

3) In 2018 you were the most followed student in the world with over 400k LinkedIn followers. That is no small feat! What is your secret? Did you have prior content creation and writing experience?
I definitely don't think I have any magic potion or secret to my success! I started writing in 2015 as a way to get jobs that I was definitely not qualified for. I used the opportunity to interview and network with others in my industry as a humble freshman just trying to get an interview. That said, I believe three major things helped me to grow my following. 
Firstly, I was consistent. I wrote a key article every single month for almost a year and a half. My writing got better every time, and I was able to give the Linkedin algorithm what it wanted. That brings me to the second reason my following grew so much: I wasn't afraid to try out Linkedin's latest feature. From 2014 to 2019, Linkedin was in a phase of rapidly trying out different content products. Being a fearless 20-something became an advantage when I would try out the new features without a second thought to how it may affect my employer's view of me. Lastly, I made some big claims. I wrote in defense of my college degree at a time when my college was publicly going through scandals. I openly talked about my experiences of micro-aggressions against my femininity at the workplace. I admitted that I got anxious at work and provided people with resources to help their anxiety. I found that people at the end of the day want to feel a sense of empathy while being entertained.

4) You focus quite a lot on leadership in your pieces. What are some traits that you have noticed that makes someone a good leader?
Empathy - People have lives outside of work. They burnout. An empathetic leader understands this and is able to use that understanding to foster a culture in which people feel that they are thriving at work. 
Agility - If COVID-19 has taught me anything, it's that you have to be able to change on a dime. 
Focus - It's easy to tell the team to fix everything, but the reality is that there will always be more to do.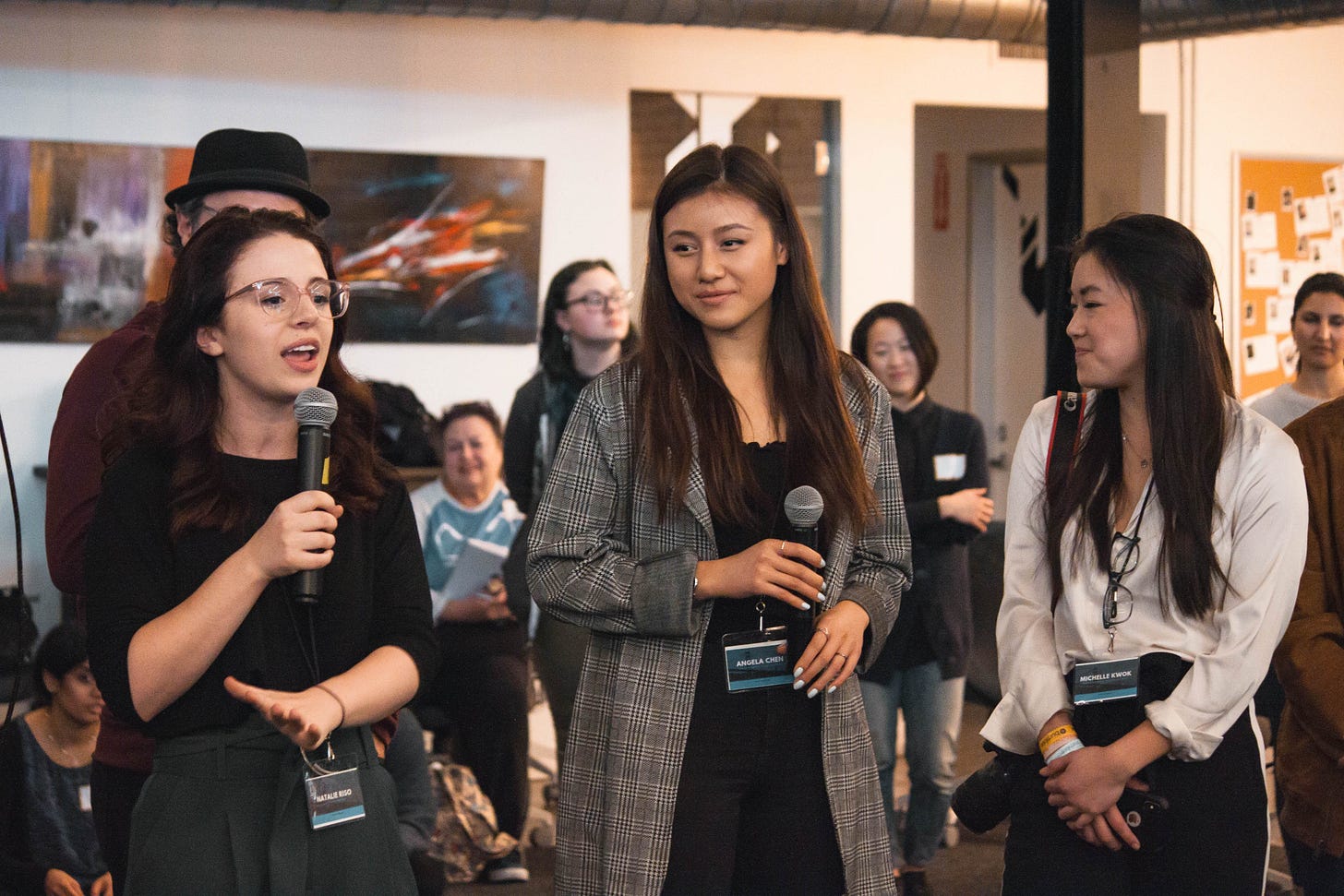 5) Do you have some tips for female founders out there on how to make engaging content of their own?
1. Don't Just Copy - While its good to take inspiration, engaging content is that which cuts through the noise.
2. Utilize Your Difference - I've met a bunch of female founders at 500 who are in industries that are heavily male-dominated. Some of the founders have even spoken to me about how they downplay being a mom or wearing certain kinds of clothing. When it comes to creating engaging content, boldly tell your unique story. Empathy is EVERYTHING. 
3. Create Goals - Why are you creating content? For lead gen? Speaking engagements? Corporate partnership opportunities? You have to work backwards from your goals to determine what kind of content will best suit your needs. 

6) What have you seen to be the biggest barriers to entry for female founders? What are your suggestions for how to overcome these?
When I dove into the research around female founders for our 500 Female Forces initiative, fundraising can be an especially difficult barrier to entry for female founders who have capital-intensive startups. For that, find VCs and angel investors that have been vocal about their commitment to finding founders of diverse backgrounds. In my opinion, many VCs with bad diversity track records haven't invested in diverse founders because they are afraid of what they don't know. But that said, the tides are turning and I'm really excited for what the future holds for female founders. 

7) What's your best piece of advice for women who are just starting their entrepreneurial journey?
Something that a former female founder told me once: ask for what you want, and be unapologetic about it. When I was leading Impact Mentality, I never truly priced my time and products high enough. Looking back, I know I could have gotten more money for sponsorships. Harvard Business Review came out with a great study a few years ago about how female founders are statistically asked more risk-adverse questions from VCs and that can put female founders in a scarcity mindset. While it's important to hustle and be lean as a founder, we as women are told that we ask for too much and often we internalize that as the truth. You shouldn't fear the ask when it comes to what your company needs to survive and grow.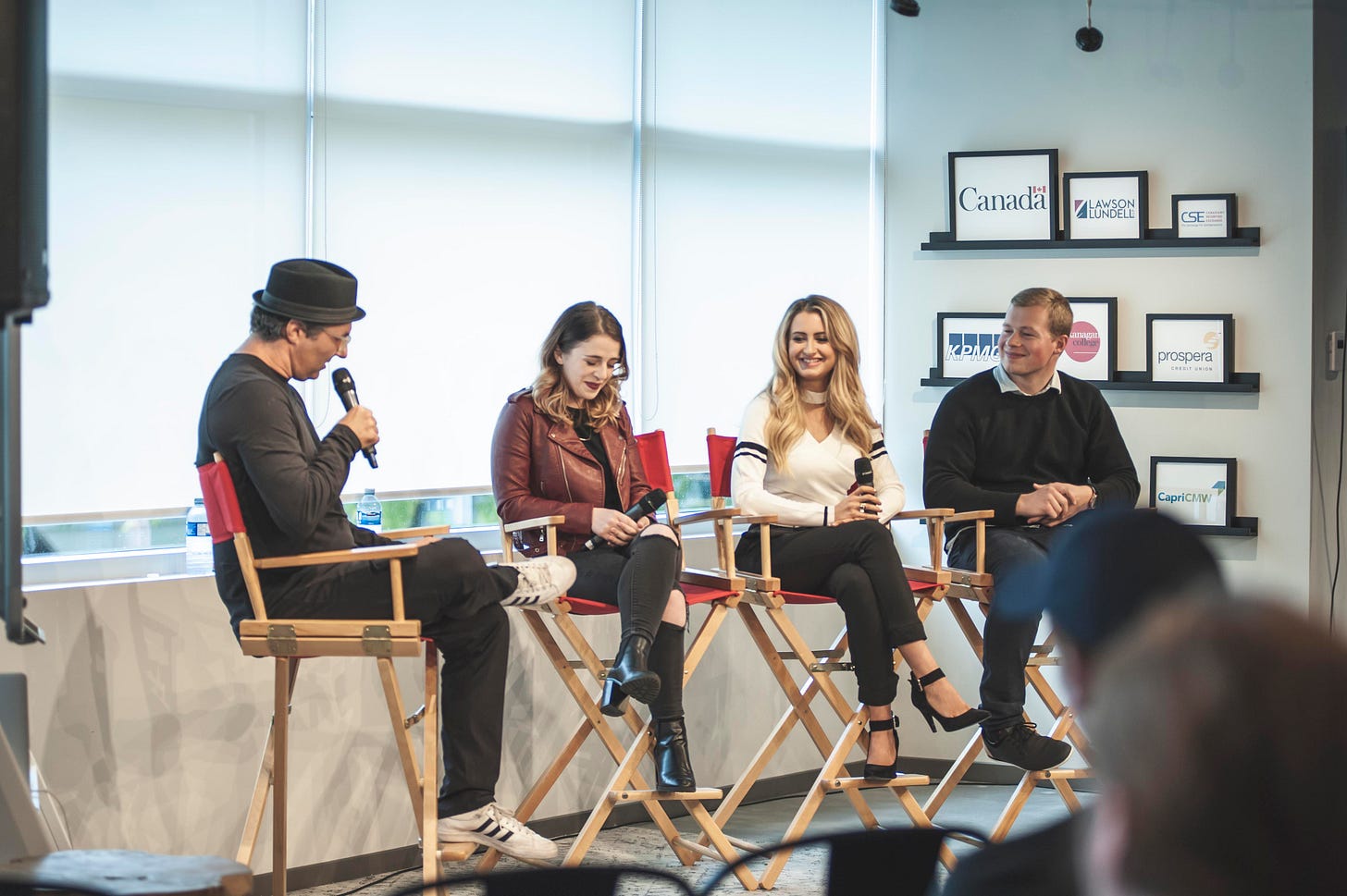 8) How do you manage work-life balance? How do you spend your time when you're not working?
It has taken me a few years to get to a point that I feel somewhat stable in my work-life balance. A major part of establishing work-life balance for me was identifying what gives me energy and what drains my energy. For example, meditation, travel (pre-COVID), connecting with founders and social impact campaigns all bring me immense joy and make me feel energized, even if the last two are technically work. To make sure I don't work all the time, I set goals for my physical health, mental health, social impact (non-work related), and community engagement. Keeping up with those goals certainly keeps me busy!

9) What has been your proudest achievement so far?
This is a hard one. While it didn't turn out the way I had hoped and is not my most infamous accomplishment, Impact Mentality was probably the thing I am most proud of. We were able to secure partners from Stanford, Headspace, Bumble and more, all while being a small team of early 20-somethings who were just grinding through the night to get it done. It's the one thing in which I took a massive leap of faith in leading the build of an incredible community, held strong in my values around social impact and mental health, and especially in it's downfall, was the project that I learned in terms of how to be a leader, how to have empathy, and how to dream big. 
---
Do you need a weekly dose of inspiring female stories? Subscribe below to get all the updates from Female Founders Weekly!
Are you a founder and want to share your story with our audience? Apply below: