For Week 7 of Female Founders Weekly, we interviewed Christy Oyedeji, Founder & CEO of Trymyfab. Trymyfab is an Atlanta based beauty tech company focused on making, going, and being naturally curly as easy as possible. In addition to being a startup founder, Christy has worked in tech for over 10 years. Her specialty is strategic partnerships and integrations. Christy is also a self-taught engineer, and super passionate about her faith, problem-solving, talent development, supporting others, and collaborative innovation.


THE INSPIRATION: How did you get the idea for Trymyfab?
I grew up caring for my hair in adherence to a set of beauty standards that told me my curly, kinky, and coily hair was not acceptable. Now curly natural hair is more celebrated, but I've had to learn how to take care of my hair all over again. It was a struggle and just like any other part of your body things change over time. Sifting through overwhelming amounts of information from "beauty gurus", products, services, treatments, methods — you name it — just to find that no combination of things seemed to work for my hair was beyond frustrating. It's my nature to solve problems with systems, so I wanted to build something to help myself out initially. During my research, I learned there were a lot of women who faced the same problem, and I decided to try helping as many people as I could.


THE PITCH: What is Trymyfab?
Trymyfab is a natural hair care platform that streamlines the process of building and maintaining a unique natural hair care regimen. We are doing this by building an app that guides the user through the regimen building process. Our tool takes the user's hair characteristics, personal preferences, hair science, and a little tech magic, and provides a fully customizable regimen to the user. As the user interacts with the tool, it suggests regimen adjustments that will ultimately help the user meet her hair goals. Throughout the regimen building process the app also surfaces products and tools based on the users needs and hair profile preferences. The user is able to test samples from these recommendations (or any other available product samples) each month and purchase or subscribe to the products work best for their curls. The result is a completely personalized regimen and a healthy gorgeous head of curls.

FROM IDEA TO REALITY: How did you get started with Trymyfab?
It's my nature to solve problems, so Trymyfab was born initially as a side hustle product sampling service circa 2012. The subscription service did moderately well, but several years ago I realized the service wasn't actually solving the problem I'd set out to fix. Then one night it hit me; a tool incorporating hair science and tech and could totally change the way naturally curly women build and maintain their hair care forever. So I validated the idea and just started building.


WORK EXPERIENCE: Did you rely on any previous business experience to help you start Trymyfab?
Oh definitely! I started my business career really young now that I think about it. First came the fundraisers from my soccer league and school, and then I graduated to girls scout cookie sales (which I DOMINATED by the way). Next, I started selling candy on my own at school, and at boarding school, I sold food I'd cooked and did laundry when I needed a bit of extra cash. I started my first official company, Knapsac, in college and then Trymyfab a few years after graduating. In addition, I have worked in the tech industry for about a decade first as an early employee at Mailchimp and now at Calendly. Both entrepreneurial and more formal experiences have provided me a wonderful framework understanding what it takes to build and scale successful businesses.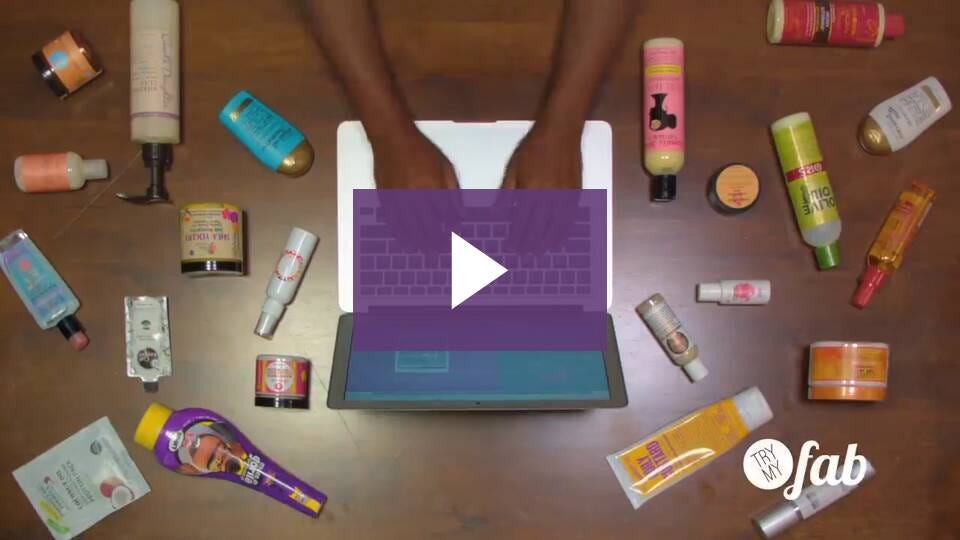 FUNDING: Did you raise capital or did you bootstrap Trymyfab?
Although I have considered and even attempted raising capital, I have always come up just short of an actual check being placed in my hand. It's a frustrating process, especially as a woman of color and one who is a bit on the younger side. I thought investment might not be the right fit for me at that time. The time I lost to pitching and educating investors about the issues African American women face with their hair care could have been better used in building my business and self-funding, so I leaned back into bootstrapping over the last year.


CHALLENGES & MOTIVATION: What have been your biggest hurdles with Trymyfab and what motivates you to keep going?
Because we are a tech company, our biggest hurdle boils down to speed. We run very lean by way of team size & operating capital; this allows a great deal of flexibility but the trade-off is the speed at which Trymyfab can build, market, iterate, and grow our product. This is hugely important for a tech company attempting to disrupt an industry


SUPPORT NETWORK: Who do you lean on the most for support?
My amazing family and friends. They are 100% my biggest assets. Not only do they provide encouragement but they're the folks who are willing to get down in the trenches with you and do whatever they can to help. They are also the foundation for your network extending your reach much further than you could imagine.

WORK-LIFE BALANCE: How do you manage work-life balance and what do you do when you're not working?
I'm still working on finding that perfect balance. Since I was a little Christy I always prided myself on being able to make anything that I set my mind to happen … without help. However, in my mid-20s I pushed myself beyond my limits which negatively impacted my health. Since then, I force myself to rely on those around me. Accepting help that's offered from friends and making use of virtual assistants and contractors to help with projects has given me back the time I need to focus on getting enough sleep, staying active, and enjoying life with friends and family. I spent quite a bit of time spinning, hiking, traveling (pre-COVID), reading, listening to music outside of work.


CELEBRATING THE WINS: What has been your proudest achievement so far?
Taking that leap of faith from full time employment into entrepreneurship. A few years ago I did the unthinkable (as the child of two immigrants), and left the security of my role as Head of Partnerships at Mailchimp to build Trymyfab full time. I'm now back in the startup world as Head of Business Development over at Calendly in order to continue investing into Trymyfab, but this was the most terrifying and thrilling jump I've ever taken. I would do it over 1,000 times.


ADVICE FOR FUTURE FOUNDERS: What's your best piece of advice to other women starting a business?
I've got a couple of pieces of advice actually.
Failure is inevitable and that's OK. We're often taught that if you do the right things then success is a given. That's definitely not true! I've learned that there are so so so many other factors that determine a company's success, one of which is luck. If you're not the lucky type, you can help that luck along with a ton of hard work and putting yourself out there. However, if things still aren't working out take a step back and allow the failure to become a lesson.

People are going to underestimate you. Good, use that sneak attack against the market, problem you're solving, or your competitors.

Trymyfab is preparing for launch. If a natural hair care platform that streamlines the process of building and maintaining a unique natural hair care regimen sounds right up your alley, you can request your invite today!
---
Do you need a weekly dose of inspiring female stories? Subscribe below to get all the updates from Female Founders Weekly!
Are you a founder and want to share your story with our audience? Apply below: